12.07.2022 Living roofs and the power of going green
December 7, 2022
We have been installing green roofs in urban areas for a long time now and continue to incorporate them into our schemes. But what is it about these roofs that gives them their enduring appeal?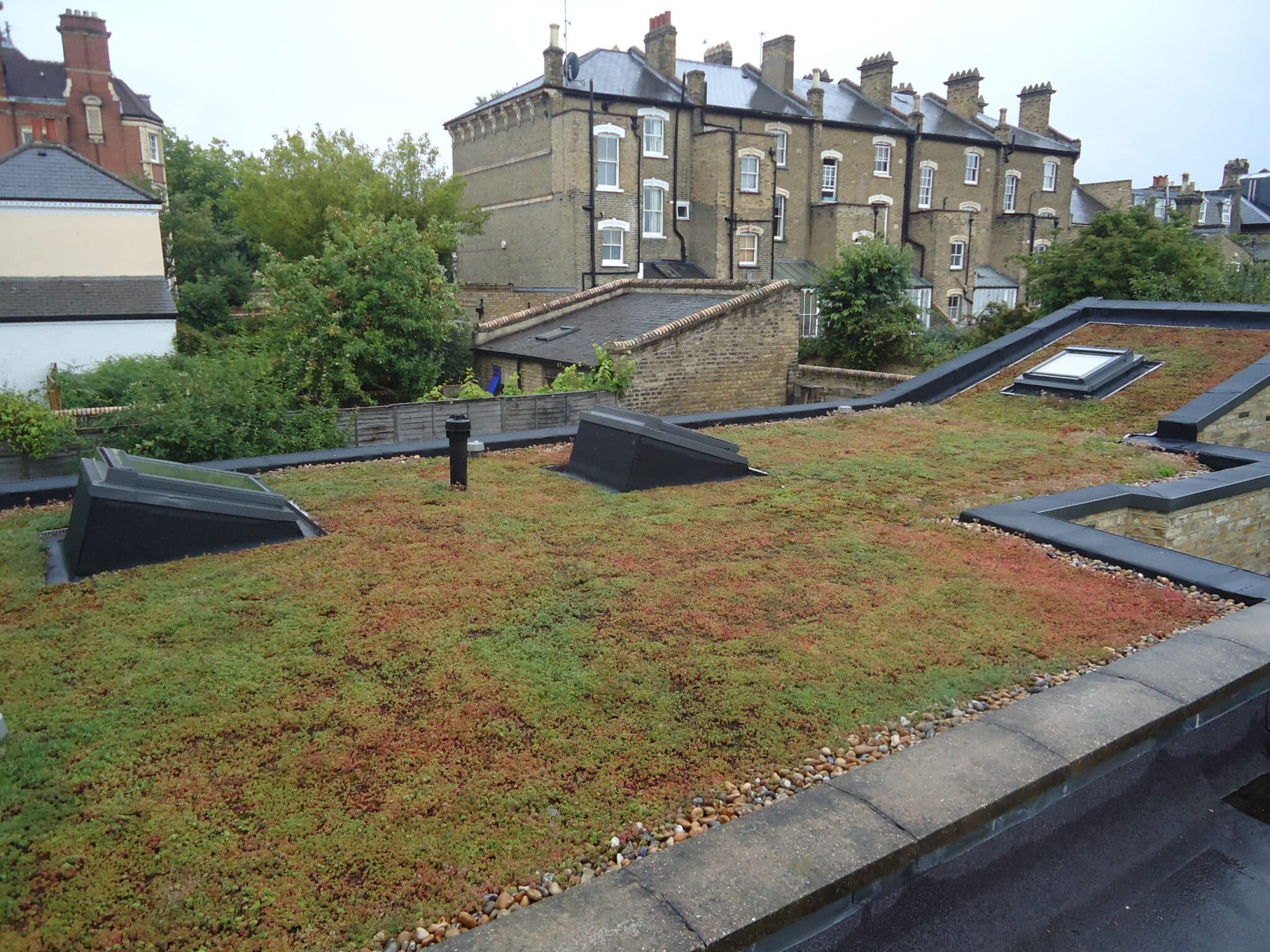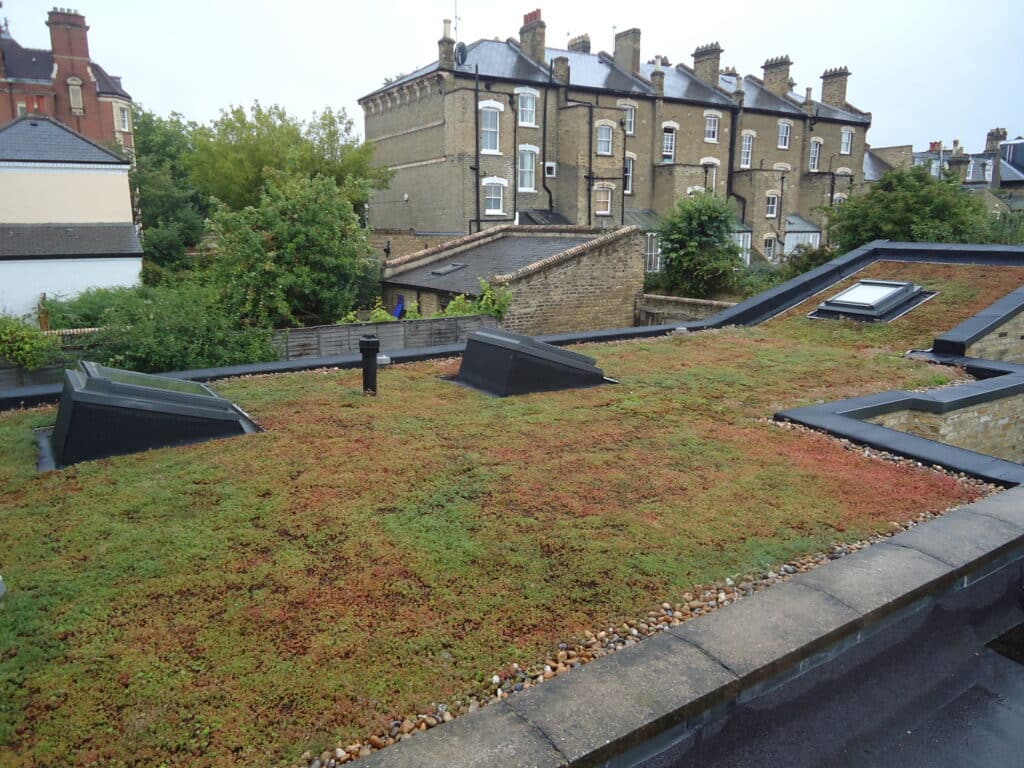 There's no denying that a roof covered in planting, such as robust Sedum, of which there is a multitude of varieties, is going to look considerably better than one covered in a waterproof membrane or roofing felt. And in built up areas, where a roof is set to be overlooked by a number of surrounding properties, how it looks is a serious consideration.
Nowhere was this more true than of a project we completed back in 2010. In place of an old garage, we designed and built a new build mews house in the curtilage of a listed building in Clapham. We installed a living green roof and now, some 12 years on, it is beautifully established – the client commented that it turns red when it is hot and dry and green when there has been rain. This particular roof is seen by a very large number of neighbours – as is often the case in London -, which means lots of people get to enjoy this display of nature at its best. For us however, the benefits go way beyond aesthetics.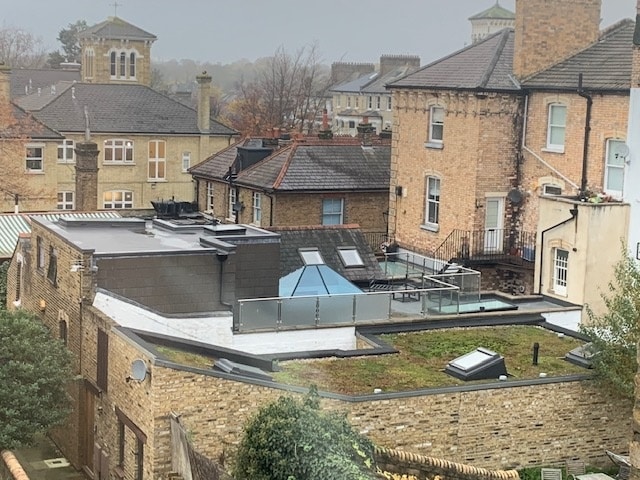 For one, green roofs are an incredibly practical choice. They are inexpensive to buy, so can often bring down the cost of a build, they are easy to install and easy to maintain.
One of the hardiest planting choices
They are also very hardy. Plants, such as Sedum, can tolerate all kinds of weather – as succulents, they can withstand droughts, such as we experienced this Summer, but equally, they can retain large amounts of water, helping to reduce rainwater run-off and the risk of flooding.
This is one of the reasons we added a green roof to a recent project at the Bath Podium multi-storey car park. To replace an open staircase emerging from the basements of the car park, we designed a naturally ventilated core enclosure, clad in fire treated Accoya timber and topped with a green roof. By using a Sedum blanket, the roof is ultra-lightweight and designed to minimise rainwater run-off, with any excess water captured in the large planters surrounding the podium.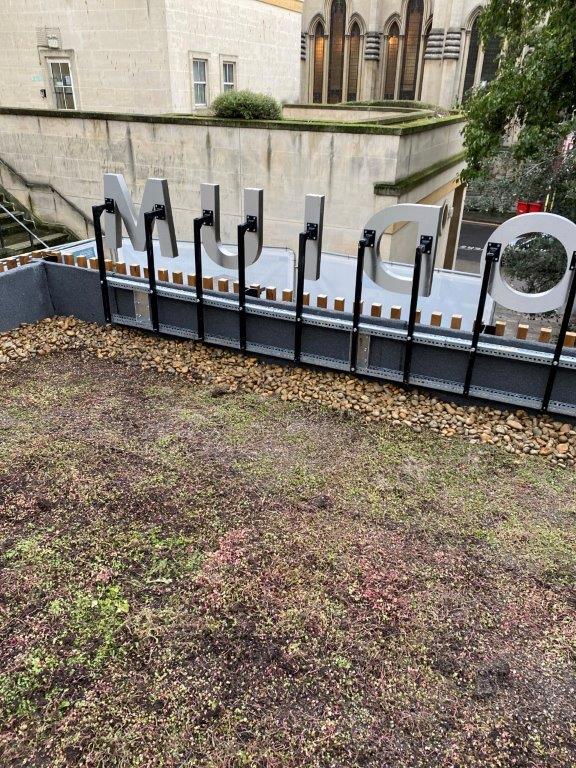 This roof will be one of the few green interventions on this 1960s site, heavily overshadowed as it is by high rise buildings including the public library, Waitrose and the Hilton Hotel. It is working hard to soften this corner of Bath, characterised by concrete.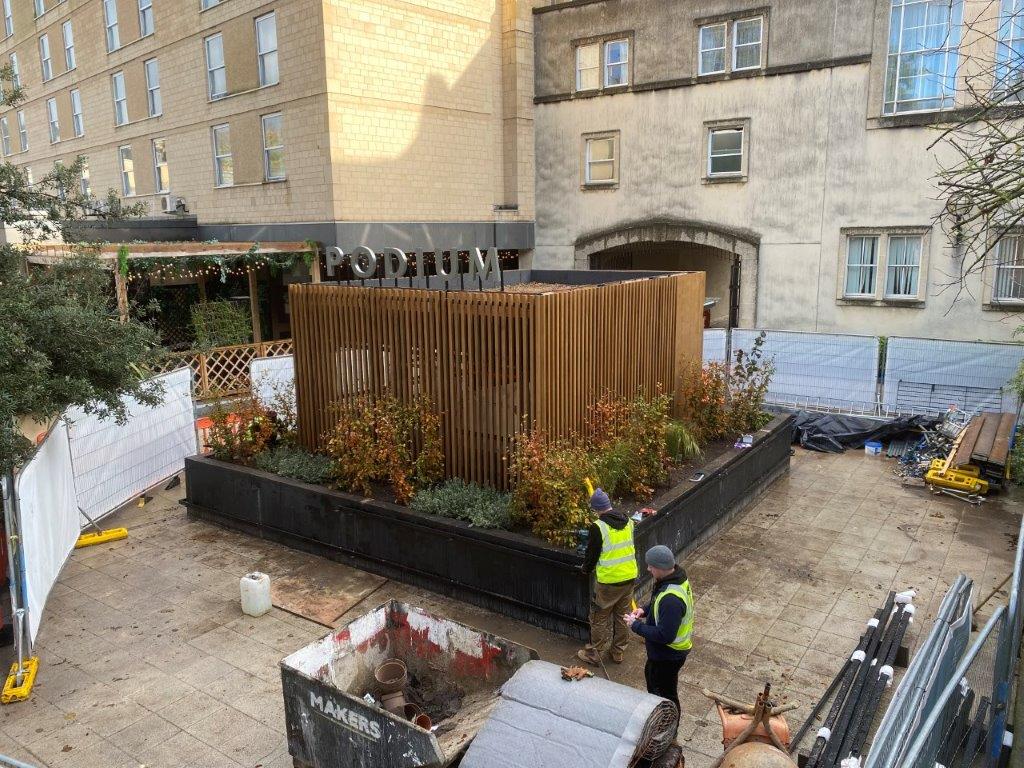 Making the building industry a little greener on the planet
Then there are the environmental credentials. Green roofs create a natural habitat for flora and fauna and help improve biodiversity, by encouraging a wide variety of species. They also play their part in improving air quality, as the plants will help reduce pollution and dust particles, which can run very high in built up areas. All this makes them popular choices amongst local authorities (if used in public areas, such as our Bath Podium project) as it goes some way to help them meet their policies for providing a sustainable environment.
It is such a joy to find a product that is affordable, looks great and yet can improve the effectiveness of the build itself, benefit the surrounding area and heal the environment. No surprise, though, that it comes from nature.