09.08.2022 Leading the way on mobility hub development
September 8, 2022
We have just put in planning permission for our first – and quite possibly, the UK's first – mobility hub.
As part of the Etruscan Square master plan to revitalise the central Hanley area of Stoke-on-Trent, we have designed a state of the art mobility hub. Backed last year by a £20million investment from the government's Levelling Up Fund, this new development will also include shopping, restaurants, a new arena and housing. But what are mobility hubs and what is it that makes them such an effective solution for modern urban areas?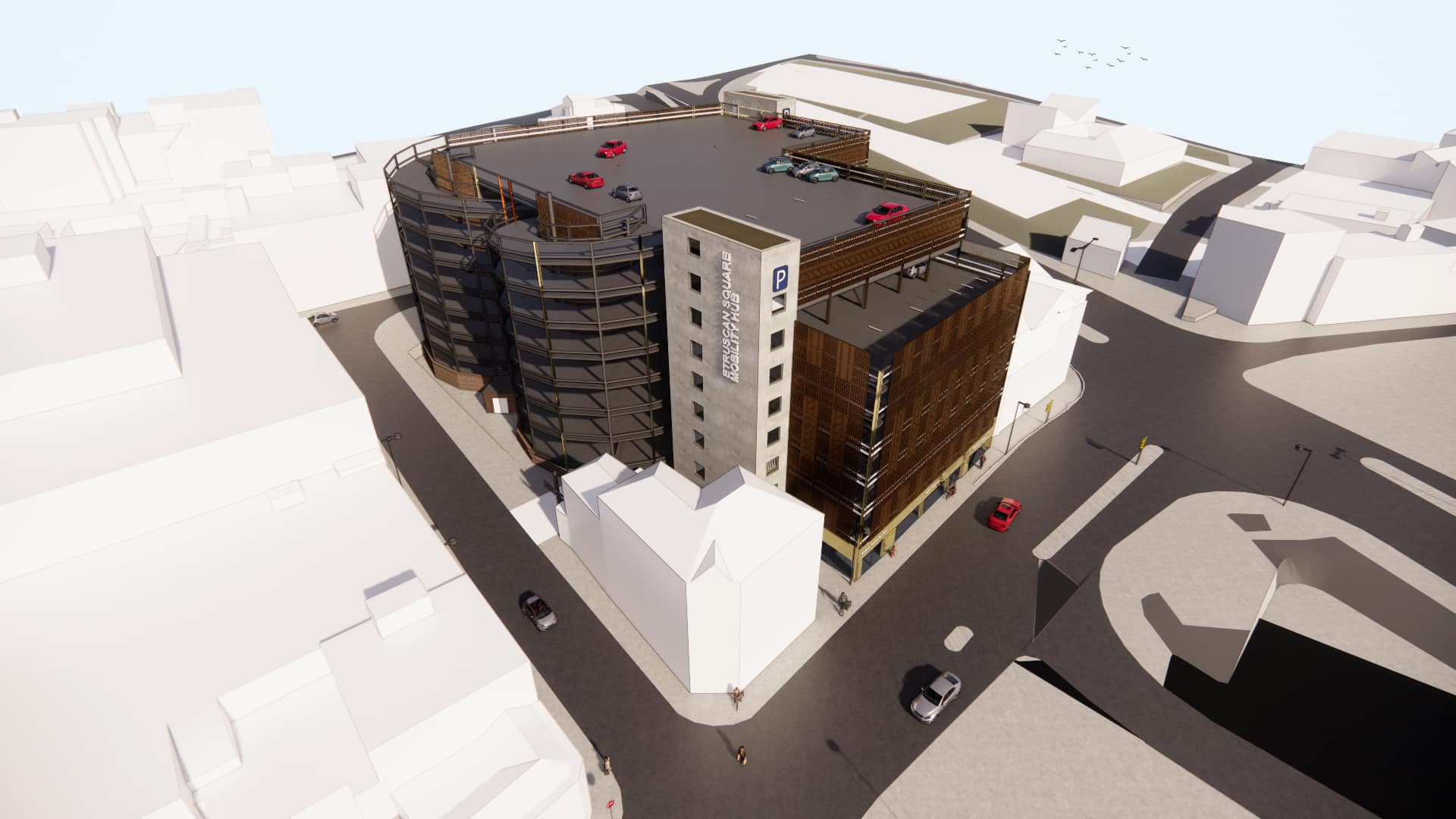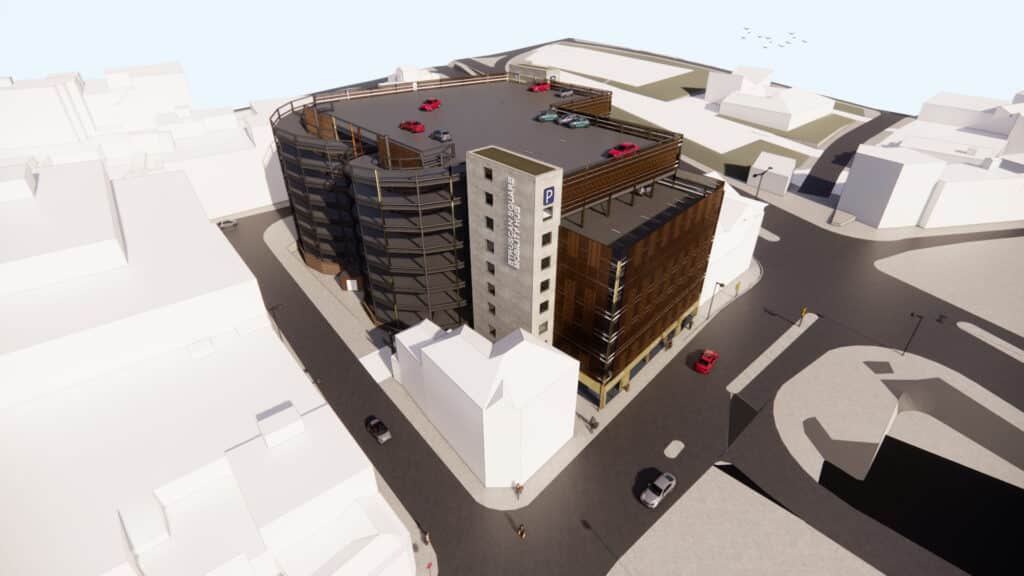 Putting true sustainability first
As a practice, we have designed and built, upgraded and repurposed a huge number of multi-storey car parks (MSCPs) over the years. But with the recent rise in electric vehicle (EV) ownership, this market needs to change and fast. This is where mobility hubs come in.
Mobility hubs are hybrid buildings, combining an MSCP with a whole host of other mobility options – charging points for EVs, bike and scooter storage, car club spaces. But they also incorporate dedicated logistics and delivery spaces to take advantage of the clear time, financial and environmental benefits of integrating personal trips with collecting your deliveries.
More than just car parking, they are designed with sustainability in mind. They incorporate everything needed to encourage people to use greener, healthier ways to travel and to reduce traffic congestion and pollution in urban areas.
They are also built with repurposing factored in. They take into consideration fundamental shifts in the way we travel and live our lives, so that they can accommodate changes, like the move to EVs, as and when they happen. Traditional MSCPs are notoriously difficult and expensive to repurpose, which is why you find so many left to degrade and become magnets for antisocial behaviour. Mobility hubs, meanwhile, are future-proofed to improve the longevity of the build, so that they continue to meet the needs of the community and remain integral to the ever-changing urban landscape.
Etruscan Square – the first of many
Our Etruscan Square design sees a modern, bright MSCP combined with a micro mobility hub to include scooters as well as bike storage and bike repair, allowing people to drive in and then take a scooter or their bike into town. There will be electric vehicle charging points, which will make up 10% of the overall parking spaces.
There will also be a large number of Changing Places toilets, for those with limited mobility who need additional assistance. We want to make it as easy as possible for everyone to get around, while also providing everything needed to help reduce congestion and pollution in the centre of Stoke.
But we are not just building for the needs of the people and their city today. We have factored in some future-proofing design elements on the ground floor level to offer flexibility in the future. The building has an unusually generous 2.9m height clearance so that high sided vehicles can come in. This means that in the future, it can accommodate first and last mile logistics, allowing delivery vans to bring local deliveries here, transfer them onto scooters to be taken the final part of their journey, keeping roads clear of vans and reducing pollution. It's next purpose has already been factored in.
And what of the future of mobility hubs?
It is clear that we need to see this shift towards mobility hubs in order to combat many of the main issues around congestion and pollution that plague our urban areas. But these hubs will themselves evolve and improve. Indeed, we already have a vision to make them an even more sustainable proposition in the not too distant future.
Our solar electric helix is a highly responsive multimodal charging, parking and logistics hub in locations around the edge of city centres, connected to mass-transit hubs. It offers the neighbourhood the chance to reconfigure car dominated streets, creating a place for people and planting, not cars. Meanwhile the solar roof and on site batteries provide the building with bulk energy generation and storage, so that it can be truly self-sufficient from an energy perspective. All in all a greener, more sustainable approach to mobility in urban areas. For now though, we need to facilitate a move away from traditional multi-storey car parks, encourage a more holistic approach to mobility and enable more cities and towns to embrace the benefits of mobility hubs. And we will of course, keep you posted on how planning process for our Etruscan Square mobility hub develops.