07.14.2022 Multi-story car parks you can relocate – thanks to system building.
July 14, 2022
Imagine a world where you could dismantle an entire multi story car park and re-build it somewhere else. It reuses resources and materials, it saves time and allows you take the building to where it's needed most. It sounds too good to be true, but this is exactly what the latest innovations coming out of the system building industry is now able to achieve.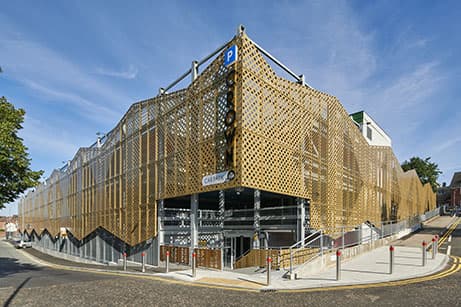 With the reuse of factory made construction components beginning to appear, it is now possible to unbolt and disassemble structural elements, ready to be re-erected on a different site. What this means is that the car park can be moved from site to site, reused again and again wherever it's needed. With our specialisms in both MSCPs and more sustainable construction, you can well imagine our excitement. This development really does have the potential to be a total game-changer not only for the car park industry, but for the wider system building industry too.
Is the UK missing a trick?
In the UK, system building has, for the most part, failed to really take hold. UK manufacturers have not yet been able to accumulate a sufficient proportion of the market to justify the cost of the factory and plant installation. As a result, there are sadly no outstanding players in UK manufacturing, despite there being no shortage of good design ideas in this field. This is such a missed opportunity. System building, has however started to dominate the MSCP and mobility hub market.
Although MSCPs are not built very often, there is now sufficient volume across Europe to justify the investment in the plant for the main system builders. This volume of projects has also seen research and development from the larger players improve, meaning the buildings themselves are becoming leaner and more efficient with materials – and as a result, more competitive than contractor led structures. We also cannot ignore the fact that the structural frames of MSCPs are made up of long span factory made components which are just not efficiently delivered in situ on site.
Why system building is so just so good
If we look at the wider construction sector, there are already strong arguments in favour of the system build approach – especially when it comes to projects where there is a lot of repetition, such as high volume housing. It allows for much better quality control in an internal environment and it shortens the amount of time a project is on site. From a manufacturing point of view, perhaps we need to look to Japan for inspiration where good housing systems have been developed based on lessons learnt from the car production industry or to Scandinavia where the build season is short due to the cold winters.
Could this be system buildings moment in the limelight?
At Potter Church & Holmes, we have used system building techniques for hundreds of our residential projects since the late 1980's and have favoured timber frame ones because of the renewable resources involved and the low embedded energy in this type of building. These projects have included self build houses, social housing apartments and houses for private clients.
It feels like an exciting time for system builds and we watch with anticipation to see what happens next – could the success of this approach in the MSCP sector finally help give system building the limelight it deserves?