07.26.2022 Why you need to think carefully before using hit and miss brickwork
July 26, 2022
Hit and miss brickwork is having a bit of a moment and rightly so. It is an incredibly effective design feature that allows architects to perforate a continuous brick façade to add interest, bringing in light and texture, but without compromising privacy. This is especially useful as a way of meeting planning requirements for overlooking where buildings are close to one another – a common scenario in urban areas.
But it is not without its challenges, as we found on a recent project – a residential apartment block on the Uxbridge Road in London. We chose to incorporate hit and miss brickwork into the design for an apartment building in Shepherds Bush, using it across the whole third floor parapet. It was the ideal design choice, but very little is known about the structural integrity of hit and miss. With this parapet being quite so high up and needing to protect people from falling off the balcony, we had to be sure it would hold.
We clearly needed to do some robust testing under factory conditions – at that height we could not leave anything to chance. Finding a factory that would be willing to carry out these tests, however, was not easy – the fact we were doing this during the pandemic, at a time when most factories were shut didn't exactly make things any easier.
Putting hit and miss bricks to the test
Wienerberger were there when we needed them. To guarantee the performance of the brick, they agreed to test seven different types of brick panels all in colours that closely matched our design intent in their laboratory. All the bricks were clay based but had to be imported as unfortunately Wienerberge's UK produced bricks were to brittle, probably as a result of the type of clay used in production.
The team put the panels to the test, focusing on fire and durability – assessing the bricks' performance when exposed on all surfaces over an extended period of time. A normal brick wall is only exposed to weathering conditions on two faces, but hit and miss leaves much more of the brick exposed. They tested both solid bricks and frogged, but filled frogged bricks with an epoxy filler to bolster its strength.
Nailing the setting out design
We then also needed to decide on the design of the setting out. There is an almost infinite number of options here, so we used Revit 3-D software to model it. At first we wanted to have the parapet wall all in hit and miss, but this was going to be prohibitively expensive due to the number of steel rods needed to stabilise the wall.
In the end we opted for a rhythm of missing two in every six blocks horizontally, staggering the pattern for every second brick course and fixing it back to the primary structure.
The result is a design that matches our intent more subtlely, but with as much impact as possible.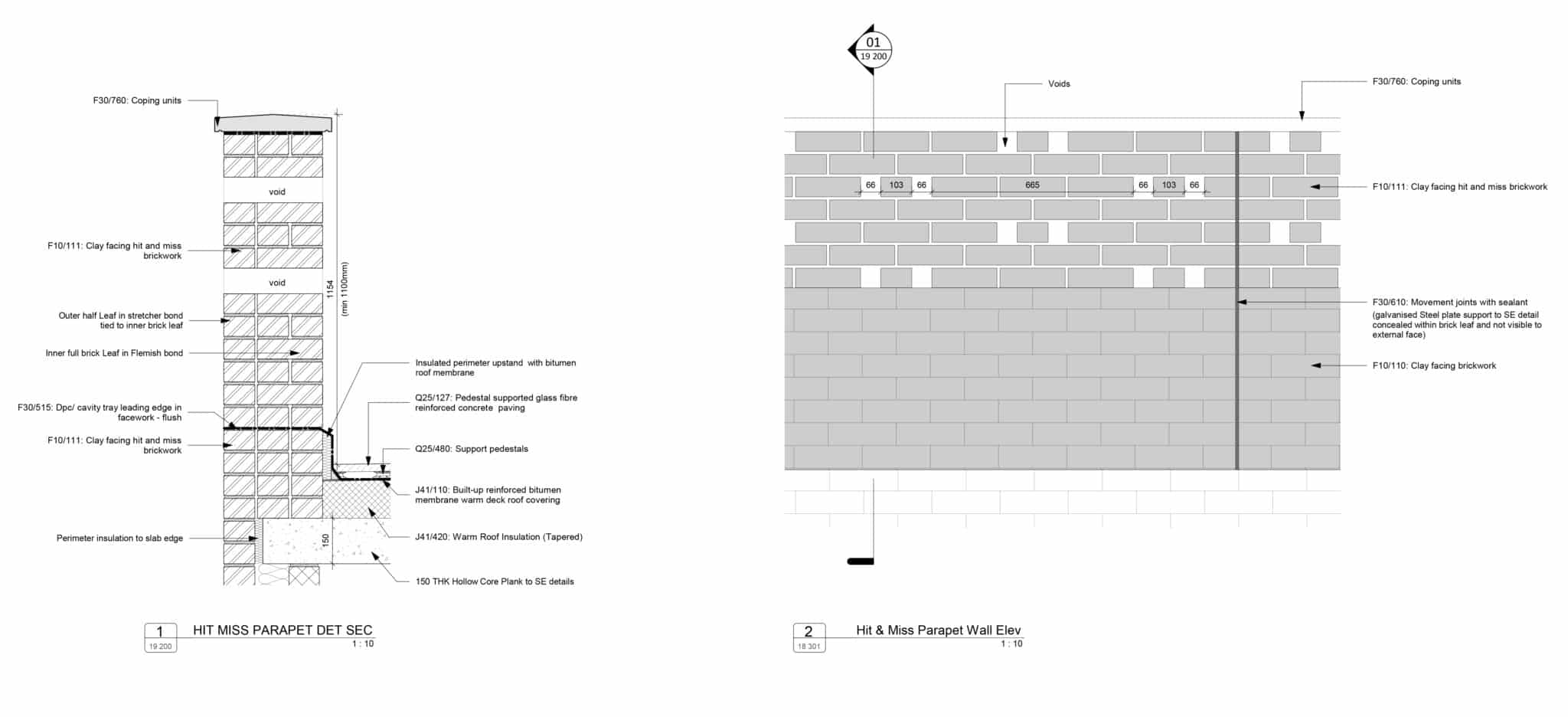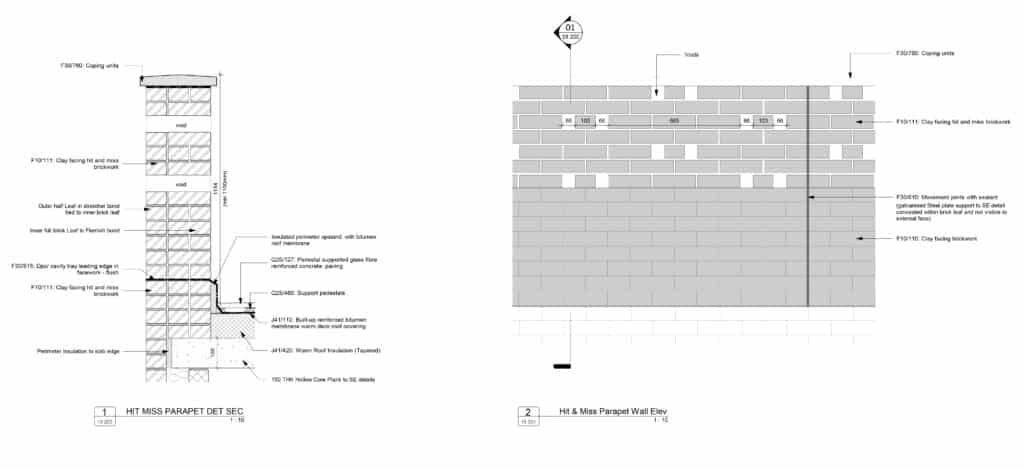 If you're planning on using a hit and miss design, The BDA offer some really useful considerations here.