05.26.2023 Transformative spaces: Breathing new life into Shepherd's Bush Green
May 26, 2023
If you know Shepherd's Bush Green, you'll know that it is about as far removed from the ideal of a 'green' as you can get. Flanked on all sides by three lanes of London traffic in a very congested part of town, it is cut off from the surrounding community and has very few facilities. It is essentially an island choking in air pollution and a hotspot for antisocial behaviour and crime, a place no one spends any time if they can help it.
But this could now all be about to change. Working with the Friends of Shepherd's Bush Green (FOSBG) and Wellstudio, another architects firm that specialises in creating spaces which support mental and physical wellbeing and community, we have devised a plan that will completely transform the western edge of the green. Having lived, worked and socialised nearby, we could all see the potential, it just needed some love and attention.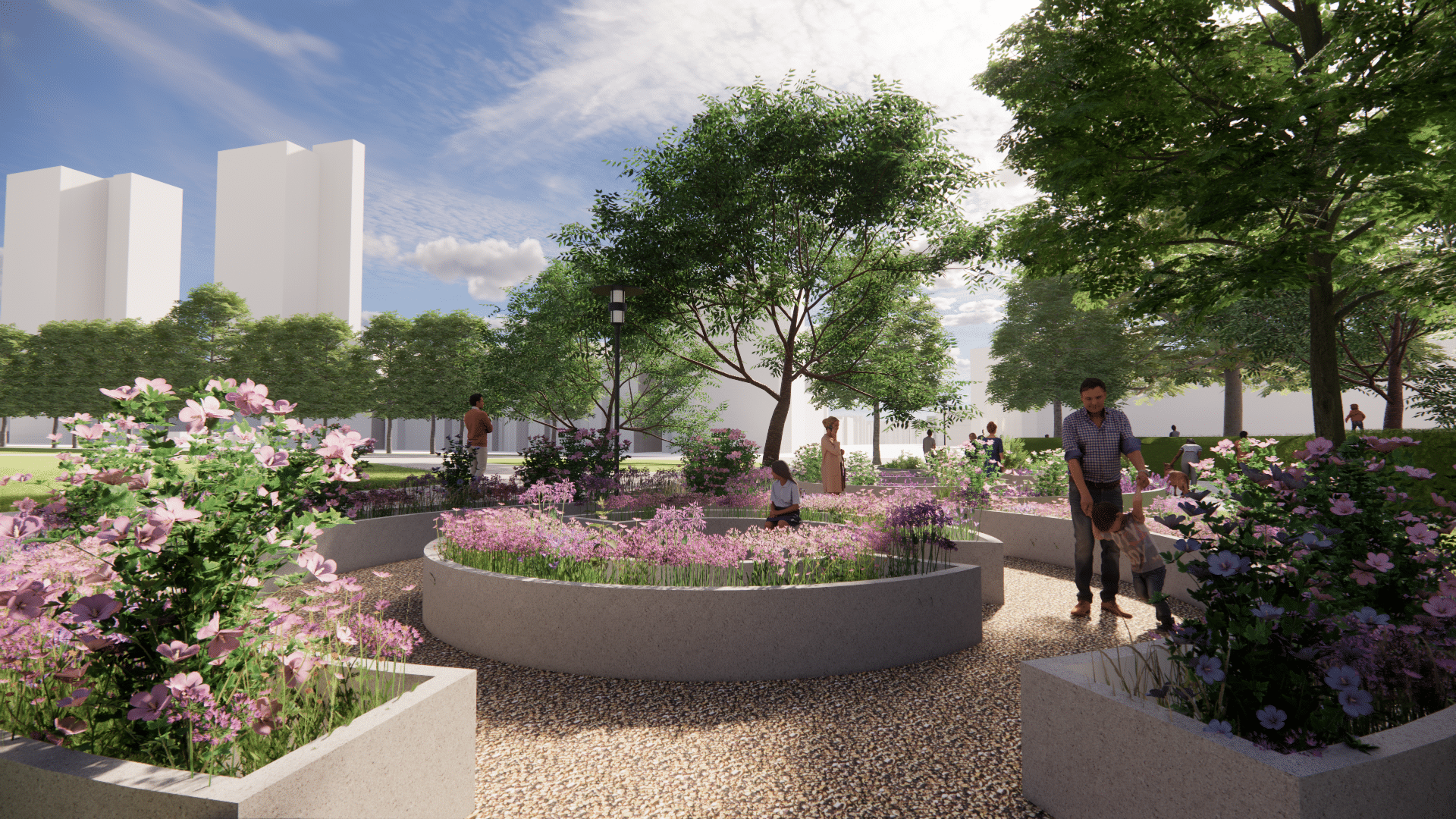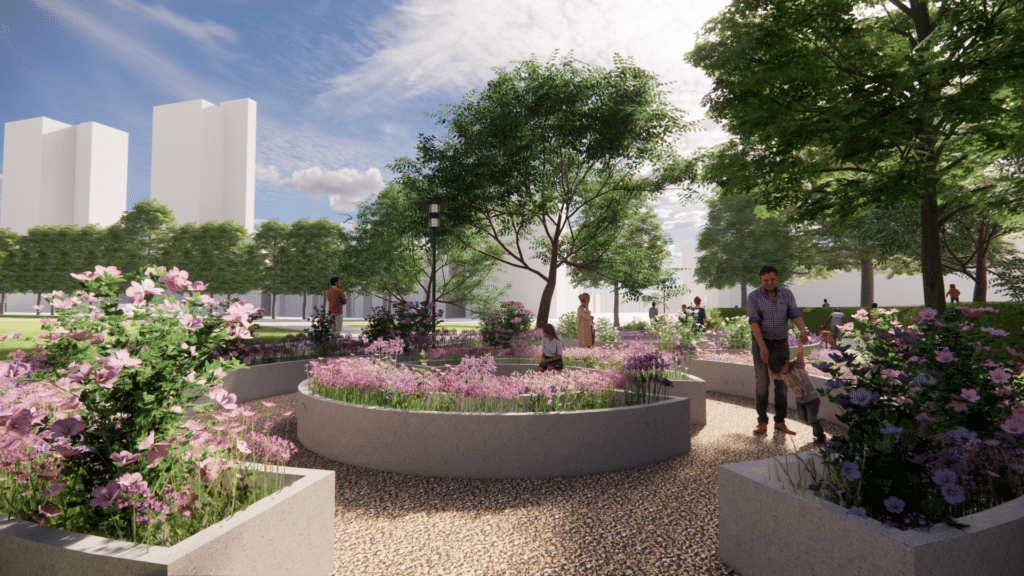 A garden for the community
Our designs incorporate a winding pathway through the green that link up different spaces, all of which have been designed to improve health and wellbeing. We want to encourage people to cycle through or just wander along. At the heart of the project is a community garden, with large circular raised beds and built-in seating so that people can enjoy being surrounded by plants. There will also be space for an allotment.
We've introduced an outdoor gym and right at the centre of the plan is a dedicated area for yoga classes. At either end of the space are the more sociable areas designed to encourage that sense of togetherness. There's space for a mobile coffee van and at the other end a sunken stepped seating space opposite the Shepherd's Bush Empire, which we hope will be a great spot for meeting friends before going to a gig.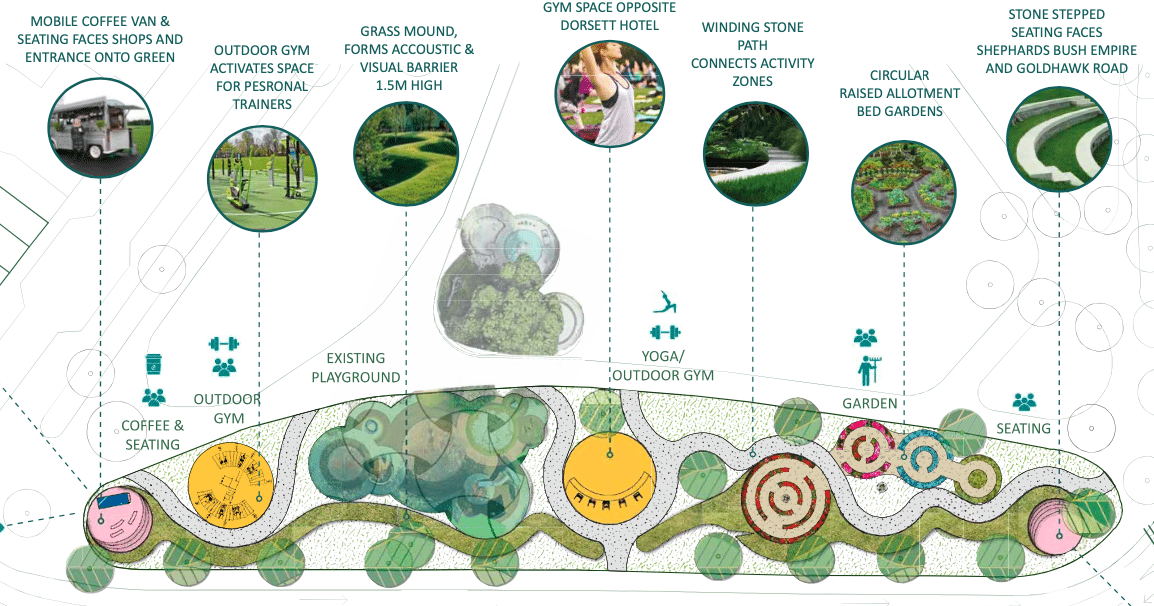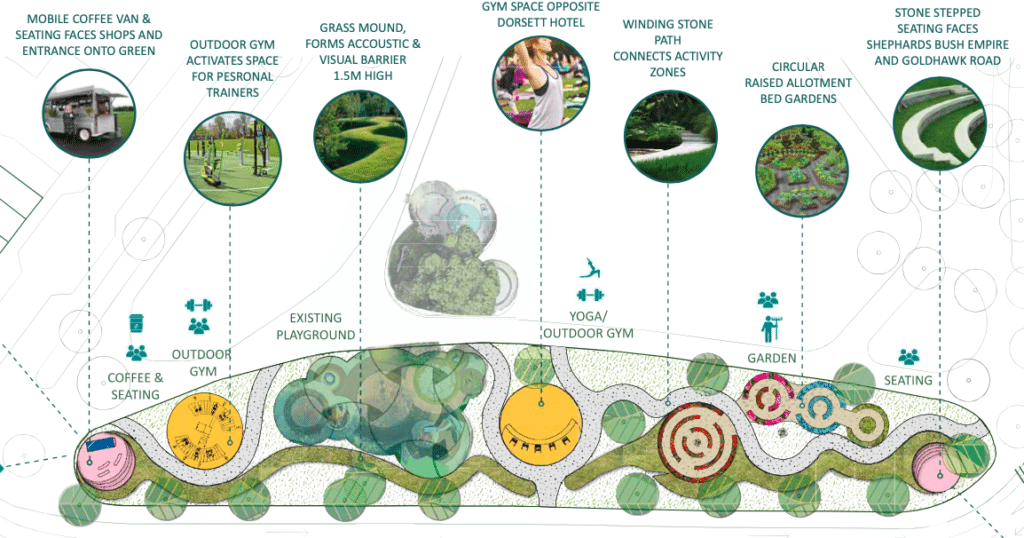 Bringing people and place together
Each space is designed with connectedness in mind to encourage people to really enjoy the outdoors and experience a bit of nature, while also rebuild relationships with each other, which is why we have used circles throughout and why there are no harsh corners anywhere.
We have also introduced changing levels and a grass mound that weaves its way along the entire space providing protection from the noise and visual busyness of the area. It creates a real sense of shelter, making people feel safe and protected, as well as more immersed in their surroundings. The whole area will be relandscaped with planting to invigorate the senses, incorporating plants that are tactile and that are a feast for the eyes.
But there will be practical design elements too – plenty of lighting for darker evenings, strategically placed bins to keep it litter free and WCs to make it easy for people to spend more time there.
Reimaging London's green spaces
We see this is an opportunity to turn what is essentially a polluted, uninviting patch of urban grassland into a space that can stand proudly at the very heart of the Shepherd's Bush community, making the green a joyful destination, rather than somewhere you pass through with gritted teeth. We hope you will join us on this journey as we look to totally reimagine this small part of the capital.