08.31.2023 The future of cladding
August 31, 2023
We're on a mission to find a sustainable and fire safe material that looks good to use as cladding in our building designs. This mission has lead us to consulting with Halt, specialists in using an innovative, environmentally friendly and all natural fire retardant for timber.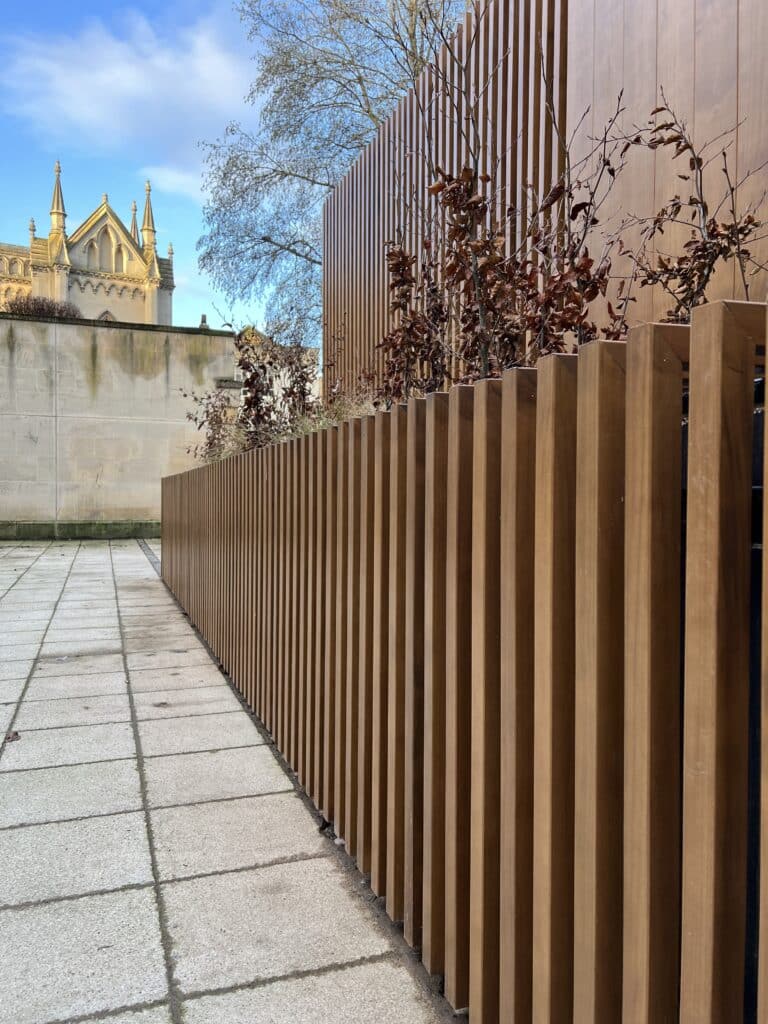 As an architectural tool cladding done right can be transformational to a design, especially when you are working on largescale, more functional buildings such as multi-story car parks, something we do a lot here at PCH., something we do a lot here at PCH. When these buildings are in the town centre, as many MSCPs are, you need them to look good, to fit in with their surroundings and cladding can be a brilliant way of achieving this. Cladding also allows you create an attractive design that lets light in and improves ventilation, both of which are essential when designing MSCPs.
Fire retardancy and sustainability are top considerations
Beyond aesthetics, there are however two fundamental considerations that need to be taken into account. Fire retardancy is top of the list – and rightly so.  Officially speaking, approved document B3 Fire safety requires that open sided car parks use materials that are class A1 rated.  Secondly,  with the climate crisis looming large, sustainability comes a close second, again, rightly so. The issue is finding the right materials that can meet the standards now expected where these two factors are concerned, while also looking good.
The undeniable appeal of metal
In the past, we have wrapped a number of our car park façades in beautiful metal cladding. Our Rose Lane MSCP in Norwich, for example, has a silver perforated façade designed in an abstract pattern to minimise light spillage but maximise natural ventilation. Meanwhile, our Crown car park in Ipswich has a fully perforated golden façade (that gives the car park its name) inspired by the town's historic arts and crafts heritage and evocative of the colours of the Suffolk countryside.
There is no doubt that metal cladding of this sort is beautiful to look at and creates an impactful first impression. In both of the above examples it allowed us to bed in what could have been quite imposing buildings into town centre locations. As a material too, the metal we used was an excellent choice from a fire safety perspective.
Could wood cladding be the answer?
The more we learn about sustainable construction however, the clearer it has become that metal is not always the most environmentally friendly option. The amount of energy needed to make the steel is huge.
We have also used wood to clad elements of buildings, such as the stair core at our recently completed, Bath Podium project. Here we used accoya wood, which is a sustainably sourced wood that we stained to look like iroko wood, which was the only wood in the Bath city materials book. The reason we didn't use iroko was because it is on the endangered species list and therefore did not meet our client's sustainability criteria (you can read more about the materials we used here and about how sustainability was central to this project here).
Innovation holds the key
There's no denying, that if you source the correct wood, it can be a very sustainable product. The issue is how fire retardant it is and while you can, of course, treat the wood (timber without fire retardant is not class A1), many of the fire retardant products out there can be pretty toxic, negating the environmentally friendly credentials of using wood in the first place. What happens to these toxins if they building is demolished, for example? That's where companies like Halt come in. They have devised an innovative timber treatment process using a product called Burnblock.
Burnblock is 100% natural and fully biodegrades without any adverse environmental effects. We are still running tests with them, but the results are looking good. This could be a total game-changer for using more wood to clad buildings and more importantly can help us improve the fire retardancy of older buildings clad in wood that perhaps at the time did not have to meet such stringent fire safety rules as buildings do today. We're hopeful about the opportunities and possibilities this kind of product could present.